original link:http://www.nynewsday.com/features/printedition/ny etcov3712275mar19,0,3387424.story?coll=ny-features-print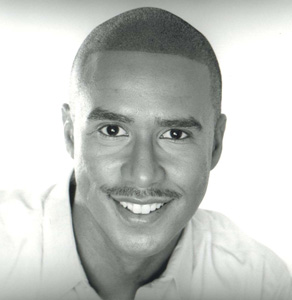 Newday Article featuring
NY Mambo Instructor
Rodney Lopez
This past March 2004, New York Newsday ran an article featuring our very own NY Mambo Instructor Rodney Lopez. Rodney had emailed me the link and I managed to save the article before it was erased from the Newsday.com website. For those of you who don't know Rodney, he has been involved in the NY Dance scene for several years now. He teaches regularly over at Dance Manhattan and holds a monthy social there. He is currently a member of Addie Diaz's Addie-tude Dance Company and is listed in the SalsaNewYork's Online Directory of On2 Instructors. He also has had the distinction of being a cast member in the 3rd NY run of the off-Broadway Mambo Musical Latin Madness.
When dance instructors and studio owners saw the trailers for the new "Dirty Dancing" movie, they might have a done a little of their own dancing - for joy.
- by Robert L. Fouch
Staff Writer, New York Newsday
March 19, 2004


  After all, when a dance film hits it big - think "Saturday Night  
Fever" or the original "Dirty Dancing" - scores of folks with money
in their pockets flock to studios for lessons, hoping to light up the  
floor like John Travolta's Tony or transform from meek geek to mambo  
queen like Jennifer Grey's Baby.

  Alas, "Dirty Dancing: Havana Nights," which is set with the Cuban  
revolution as a backdrop and features a pumping salsa soundtrack, has  
stumbled at the box office. So no teeming dance masses. No hordes of  
budding salsa stars. Maybe Jennifer Lopez's upcoming remake of the  
Japanese hit "Shall We Dance," or the next new TV ad, will bring them 
to their feet.

  Even absent star power, however, a lengthy conga line of would-be  
dancers keeps teachers busy daily throughout the metro area.  
Instructors and students alike say the reasons to go for a lesson are  
as varied as the steps you'll stagger through. From exercising to  
socializing, celebrating to competing, finding or rekindling love,  
we've compiled the top 10 reasons people strap on their dancing shoes.

Flirty dancing

  Let's face it, just about everyone's looking for love. And more than a  
few students have taken lessons in hopes of meeting that special  
someone. At Dance Manhattan at 39 W. 19th St., salsa instructor Rodney  
Lopez says he makes a point of asking his students why they signed up.  
"A girl in my class last month said, 'It's a great way to meet Latin  
men.' Everyone laughed, but she was up front about it."

  The biggest thing, Lopez says, is that dancing is social in a world  
where we spend more and more time shut in, often alone in front of a  
computer. "You get to connect with other people, you get to meet new  
people, and frankly, you get to touch other people," Lopez says.  
"That's not a small thing. It's not sexual or inappropriate; it's just  
human contact."

Exercise in disguise

  When you go to the gym, there's a singular purpose: feeling the burn  
of getting in shape. No pain, no gain, right? Nancy Carillo of  
Smithtown, who's been dancing with her husband, Mike, for nine years,  
says it doesn't have to be that way. "[Dancing's] the easiest kind of  
exercise," she says. "You can just keep going and going. On a  
treadmill, you'd be looking at a clock and waiting to quit. With  
dancing, you can go on forever."

The great escape

  Reality might be huge on television, but in instructor Mark James'  
experience, most people are looking to get away from their own everyday  
realities. And dance, he says, is the perfect means to that end. "You  
get really into the moment," says James, who has been a teacher for 16  
years and organizes a monthly dance at the Wantagh Jewish Center. "I  
call it the zone. When I'm in the zone, everything's right. For a lot  
of people, they can find that moment for a couple seconds when they  
dance. As elusive as it is, they want to find it more often."

The first dance

  The cake's ordered; the dress is hanging in the closet; the  
invitations are out; the hall is booked, everything's taken care of.  
Then a month before the big event, the bride has a sudden realization:  
She and her hubby-to-be can't dance! So after a quick call to the local  
studio, the harried couple cram in a few lessons, practice when they  
can spare a moment and fudge their way through a foxtrot.

  Such a scenario's not ideal, of course. Donamarie Portelli, an  
instructor who teaches dance at Stony Brook University, says she  
recommends couples start taking lessons a year before the wedding.  
"That way they're comfortable and it's fun," she says. "They won't
be just trying to remember the steps. They'll actually be thinking of each  
other."

Happy together

  For the couple whose first dance is but a distant memory or a shaky  
image on a wedding tape, there's still reason to take a lesson: spicing  
up the marriage.

  Karen Lupo of Farmingville, Mark James' dance partner and a teacher  
for 10 years, says that for couples, the dance scene is a good, healthy  
atmosphere. "Couples are looking for something they can go out and do  
together. And sometimes they realize it's more a social life they're  
looking for."

  Carillo, who is one of James' students, agrees that it's a great way  
to meet other couples and make friends. But she warns that the lesson  
stage, with all the frustrations of learning something new, can put a  
strain on even a healthy relationship. "If you can make it through  
dance lessons in a marriage, you can make it through anything," she  
says with a laugh.

Music to your feet

  You can't have dancing without music. In fact, Mary M. Piazza, an  
instructor who gives weekly Latin, swing and ballroom lessons at  
Winner's Circle in Westbury, argues that you can't have music without  
dancing. "You hear great music that you love, but it has no life until  
you dance to it," says Piazza, who has been teaching for more than 20  
years. "When you dance with another person, it's just such a wonderful  
feeling. It really feels like the true sense of love: two people not  
speaking but communicating. And with the music, the trio is fantastic."

As seen on TV

  Just as a hit movie can inspire a dance craze, so can the small  
screen. Remember that Gap ad a few years back? A bevy of good-looking  
swing dancers - decked out in the Gap's latest fashions, of course -  
joyfully flung each other through the air to the sounds of Louis  
Prima's "Jump, Jive and Wail." The result? A bevy of maybe  
not-quite-as-good-looking swing dancers filled dance studios; swing  
nights popped up in seemingly every club; and bands such as the Cherry  
Poppin' Daddies and Big Bad Voodoo Daddy got play on commercial radio.

  Latin music has had a similar boom, with salsa and cha-cha rhythms  
helping pitch products ranging from soft drinks to chewing gum. "Latin  
music is ubiquitous," says Dance Manhattan's Lopez. "It's in every  
commercial now. There's an awareness and comfort level with the music."

Competitive nature

  For years the National Dance Council of America and other dance  
organizations have pushed for inclusion of partner dancing in the  
Olympics. So far to no avail. But in Madeleine Middlemark's view,  
there's little doubt that dance qualifies as a sport.

  Middlemark, who's been a competitive dancer herself, organizes the  
annual Stardust Ball Competition (April 24-25 in Islandia), one of  
several competitions across the country that culminates in the Ohio  
Star Bowl Dance Championships in November.

  Like skiers or baseball players, she says, dancers strive for  
perfection, working toward that next level of ability. "I think it's  
just like any other sport," she says. "You want to get better, and you
want to see who you can compete against."

  Susan Stanford, 56, of Deer Park, doesn't see herself trying out for  
the Olympics anytime soon, but she says she has used partner dancing -  
in particular competitions and showcases - to help overcome her  
shyness. "I always felt that I missed a lot of things because I was  
shy," says Stanford, who has been dancing for nearly 15 years. "I still
get nervous [about competing], but it's not as bad as it used to be.  
... Once you're out there, you get into it. It's just you and your  
partner and the music."

The politics of dancing

  Dance, it seems, isn't just about shaking your body or learning a few  
steps and spins. It's an expression of culture. Cuban life is infused  
with the rhythms of salsa; tango helped define the struggles of the  
impoverished in Argentina; swing emerged from the Harlem dance halls to  
become a worldwide phenomenon.

  "A lot of these dances did not come out of stuffy ballrooms," Lopez 
says. "They came out of the streets, and local clubs, and  
neighborhoods. They came out of a people and a tradition. When you  
start learning a little of the history of these dances, you move from  
social dancer to artist."

A good time by all

  But the main reason to dance, enthusiasts say, is simple: It's fun.  
Just don't expect to become Fred Astaire (or even Jennifer Lopez)  
overnight. "I tell people to be patient with themselves," Rodney Lopez
says. "And, like anything else, you start with the basics and work your  
way up.... People don't give themselves time to learn how to dance;  
they just want to be able to do it. If dancing hasn't been part of your  
life, it's going to take time."

  Piazza agrees. "I've never met anybody that I can't teach to dance,"
she says. "If you can't learn to dance, it's not your fault, it's your  
teacher's. Of course, some people take longer than others. But if you  
have the patience, you can do it."

  Copyright © 2004, Newsday, Inc.
Click here for Rodney's current contact info.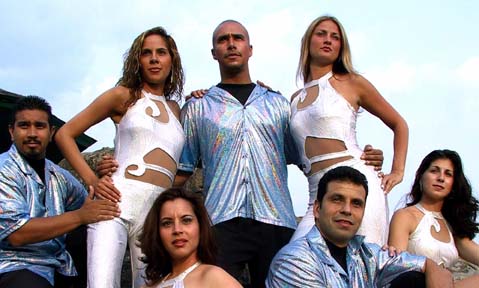 Rodney (center) posing with Addie Diaz and other members of the Addie-tude Dance Company
Photo courtesy of Mambon2.com

[Main Menu ] [Magazine Home ] [New Articles this month ] [Instructors ] [NY Dance News] [Articles]
[Submit an Article] [Calendar of Dance Events]
Best Viewed In Internet Explorer