SALSANEWYORK CYBER-INTERVIEW: Minnie Ruiz
-by Manny Siverio
Originally published on SalsaNewYork on 4/02
Photos courtesy from Minnie Ruiz
This month we interview Hawaiian Salsa Queen Minnie Ruiz. Originally a native New Yorker of Puerto Rican decent. She traveled out to Hawaii and fell in love with that island paradise. Minnie has actively been promoting the art of Salsa Dancing and has been duped "The Salsa Queen of Hawaii". She is a promoter of NY On2 dancing and has been responsible for bringing both the Addie-tude Dance Company and Descarga Latina to Honolulu. Its with great pleasure that we present her interview to the SalsaNewYork readership. -Manny
Cyber-Interview: Hawaii's Minnie Ruiz
SNY: How popular is Salsa Dancing in Hawaii?
MR: It has become the hottest dance in Hawaii. Everybody wants Salsa! When I first arrived in Hawaii in 1990, I was the first Mambo Dance Instructor here & I gave free dance lessons at the Ala Wai Golf Course. There were not many clubs that play Salsa. Only one club called Acqua with live music. It was then I met Rolando Sanchez & Salsa Hawaii, Nancy Ortiz & Ray Cruz. They are the true pioneers of promoting Salsa in Hawaii. They have been promoting Salsa for over 20 years.
SNY: Why do you think that Salsa Dancing has become more popular in Hawaii over the last few years?
MR: With the exposure of some Salsa websites & having Univision bring one of the hottest Miami base shows "Caliente" to tape in Hawaii, it has giving us exposure all over the world
SNY: Who have you helped bring to Hawaii to help promote the art of salsa dancing?
MR: Well, we had Addie Diaz and her Addie-Tude Dance Company for the 12th Annual Latin Music Festival. They were the first to promote the "On 2". They updated me on some of these hottest moves. I also, had the pleasure of working with Nelson Flores & Descarga Latina Dance Company. We are have having more & more dancers coming to Hawaii. We are having someone coming in the months to follow that has been around for a long-long time but just keep checking out the the websites for more information.
SNY: Where do you see Salsa dancing going in Hawaii over the next few years?
MR: I see Hawaii as one of the hottest Salsa places to dance. We have many Japanese that come here to dance Salsa, especially for the Hawaii International Latin Music Festival held each year & the Hispanic Festival held at the Kapiolani Park hosted by Hispanic Chamber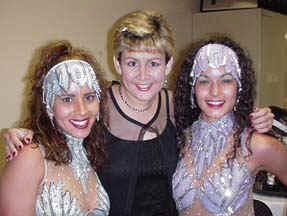 of Commerce.

SNY: Do you ever envision a congress being organized on the island?
MR: Of course! Hawaii would be a great place to have a congress, not only do you Salsa but you can enjoy paradise too & also learn to dance the Hula. We are getting alot of exposure. Here is not like New York or Los Angeles but a mini congress would be nice.

Minnie (center) with Addie-tude Dance Company Director Addie Diaz (left)

SNY: How often do you teach and what is the average size of your classes?
MR: Right now, I teach mostly privates but I do have a beginner/intermediate group class on Wednesday nights. I get anywhere from 10 to 30 students. Each week is different, sometimes less & sometimes more. I go out to shopping malls, parks, special events & give complementary lessons to promote Salsa. I teach them the application of clave timing & how to feel the music. That is very important to me. When the students feel the music they will know how to play on the dance floor.

SNY: Do you perform? Can you name some of your gigs?
MR: I do not perform like when I lived in New York during 70's & 80's. That was my prime time. I have done some performance here like for the Cinco De Mayo festival a couple of years ago with the legendary Tito Puente, Sheila E, Pete Escovedo & our very own hottest Salsa band Rolando Sanchez. I have also danced at the Hawaii Music Awards, Parks, Schools & some of the hottest Salsa Clubs in Hawaii. I basically love to teach & when I feel the music my students also feel the music

.

SNY: What are currently the hottest nights and clubs for Salsa Dancing?
MR: We have Salsa everynight of the week so please do checkout the different website for Salsa. Some nights have 2 & 3 Salsa clubs to chose from. They are all HOT!

SNY: How big would you say the Salsa Crowd is in Hawaii??
MR: It is growing immensely! Not only latinos are dancing Salsa, we have Japanese, Hawaiians, Koreans, Samoans, Philipino. We have a much larger ethnic group dancing Salsa/Mambo.

SNY: How long have you been dancing mambo and what got you into it?
MR: I have been dancing mambo for about 20 years now. When I was 15 I use
to go to La Villas in Upstate NY with my family and I would watch this guy
named Lenny dance. He was fabulous. He noticed how I stared at him so he
asked me to dance and my legs were shaking, but I wanted to learn so bad that I could taste it. He lives in the Bronx.

SNY: Where did you originally learn how to dance mambo and who was
(were) your mentors?
MR: I learned to dance mambo in NYC; the place was the Palladium. My mom
was a mambo dancer along with the Tito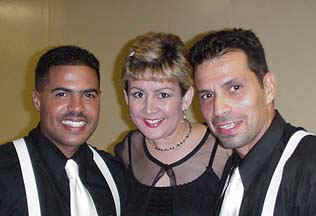 Puente Band. So I learned from the
best.

SNY: How long have you been teaching mambo and what made you decide to teach mambo?
MR: I have been teaching for about 15 years now. I started with the hustle. I learned the hustle from the dance dimensions and I followed the yellow brick road into the mambo.
SNY: What do you like most about teaching?
MR: The fact that I am introducing salsa to another human being. Letting
them know how passionate and exciting this dance is.

SNY: Why do you think people come to learn from you?
MR: They are learning from the best here in Hawaii. The comments that I received are very positive. They said wow! You are a very good teacher; you explain every detail about teaching. I let them know how to lead and how important it is because if a guy can not lead, his partner will not be able to follow. I show them the way you hold your partner's hand, the footwork, style, etc.

SNY: Are most of your students men or women? and why is that?
MR: I have more men than women only because they feel comfortable with
me and from my side they ask what the female partner loves to do on the dance
floor the most. I help them and inform them that the ladies love to have fun on
the dance floor.

SNY: Do you still like to go to clubs and dance socially?
MR: I do sometimes only because I love salsa with a passion and I like to
hear the music. When you understand what the song is saying it is more fun
to dance. I don't go dancing every week like I did when I lived in NY.

SNY: How about performing? Do you still perform and who have you
performed for or with?
MR: I've done a few performance here but mostly solo Palladium style. Here
we have good dancers but I have not found the perfect partner. I performed for the Miss Latin Hawaii Pageant along with Rolando Sanchez and Salsa Hawaii. They play the best in Latin music.