Photos Of The Month
(2004)
January-September 2004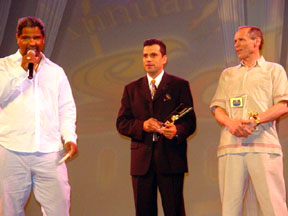 Albert Torres presents award to Honor SalsaNewYork Co-Hosts
Manny Siverio and Steve Shaw for their "dedication to promoting
Latin Music and Dance" at the 6th Annual West Coast Salsa Congress in L.A.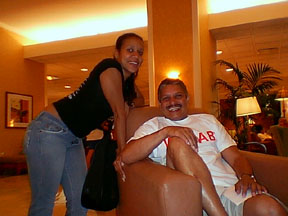 New York Salsa Congress promoter David Melendez and Mari hanging
out at the lobby of the Marriot Hotel in L.A. during the 6th Annual West
Coast Salsa Congress. David is gearing up for his New York Salsa Congress
which hits New York from August 19-21, 2004. For more info go
to his website www.nycsalsacongress.com.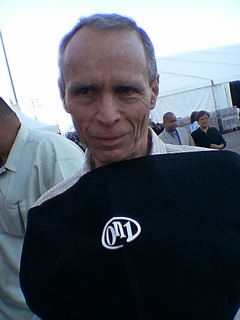 Famed "On 2" extremist Steve Shaw of www.SalsaNewYork.com was forcibly
kidnapped and detained at gunpoint at the West Coast Salsa Congress last week,
hands and feet tied, starved for 3 days, drugged with crack and then forced to be
photographed with an "On 1" baby T shirt by traitors, former so-called "friends",
Manny Siverio (taking picture), Toni & Carlos Mendoza (seen over Steve's left
shoulder) and Edie "The Salsa Freak".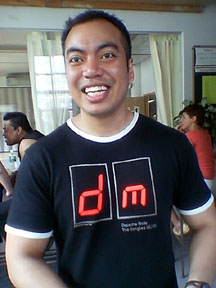 NY Mambo Instructor, Dance Company Director, Promoter and Dancer
Joe Burgos chilling out right before the start of Addie Diaz's Ladies Styling
Workshop. Addie's workshop is one in a series that Joe's Piel Canela
Company promotes each year. Though we at SalsaNewYork think he may be
a fan of NY Salsa Congress Promoter David Melendez with a t-shirt like that.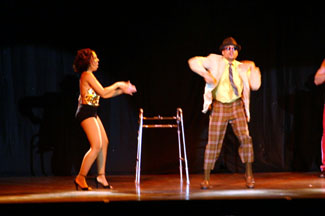 NY Mambo Instructors and cast members to the
Off-Broadway Mambo Dancing play Latin Madness Brenda Byrd and
Steve Seda doing one of the skits at the Zurich Debut to
Latin Madness this past February 2004.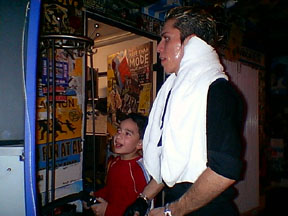 Junior Addie-tude Dance Company Member and Latin Madness Cast Member
Devin Flores teaches famed L.A. Salsa Dancer Johnny Vasquez, a thing or two
about playing video games in Zurich this past February 2004.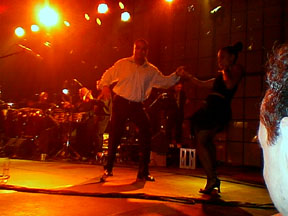 New York Mambo Instructor, Performer, Santo Rico Dance Company
Director and Cast Member of Latin Madness Thomas Guerrero, takes the stage
during a performance of The Spanish Harlem Orquestra in Z
urich this past February 2004.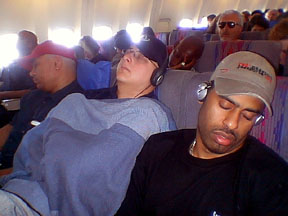 The Santo Rico Dance Company at work reviewing the moves to their
next routine during their trip to the 6th Annual West Coast Salsa Congress
in L.A. this Memorial Day Weekend.
Past photos of the month Click here
Photo of the Month Submission:
Have a dance photo and would like to submit it to
SalsaNewYork for Photo of the Month? Then email it to
me at MCIACorp@ix.netcom.com. Please make sure to send
it as a "jpeg" or "gif" attachment. The best image will be
chosen to be the SalsaNewYork Photo of the Month.
[Main Menu ] [Magazine Home ] [New Articles this month ] [Instructors ] [NY Dance News] [Articles]
[Submit an Article] [Calendar of Dance Events]
Best Viewed In Internet Explorer