SalsaNewYork Product Review:
Instructional Video Review
-by Manny Siverio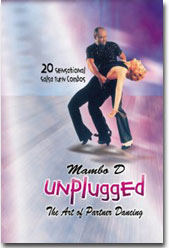 Product Description Manny's Take SalsaNewYork Rated How to Buy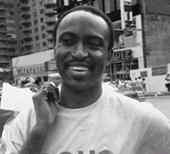 Delille "Mambo D" Thomas is a NY Mambo Instructor with many many years of teaching experience behind him. He was one of the first instructors to begin teaching mambo dancing in NYC as well as one of the original instructors to be reviewed on SalsaNewYork.com. Delille is known and respected around the world for his suave and cool style of dancing. This month SalsaNewYork reviews Delille's Instructional Videos entitled "Mambo D Unplugged: The Art of Partner Dancing."
Description Of Product
Delille's tape focuses mainly on illustrating 20 turn patterns to video viewers.
The 20 turn patterns are broken down into 4 separate groups of 5 turn patterns.
(Do the math 4 x 5 = 20 turn patterns)
Delille gives each pattern a specific name (i.e. Wrapped up

, Unplugged, Dynamo, Going Crazy, Give And Take, etc.)

. These names help the viewer associate the specific sequence of moves related to each pattern.

Every pattern is demonstrated a total of 5 times before moving onto the next combination.

The first two (2) times a pattern is demonstrated, its executed to music at normal speed.

The last three (3) times a pattern is illustrated, its verbally broken down in a slower stop-&-go manner.
-The first time its normally accompanied by the point of view (POV) of a narrator.
-The second time Delille provides the POV of the male dancer,
- while his partner Glenda usually provides the female POV on the third and final run of the pattern.

A brief review is provided at the completion of every 5 turn patterns. The patterns are done to music in a consecutive back-to-back manner before moving on to the next cluster of 5 patterns.
Manny's Take:
Delille Thomas's "Mambo D: Unplugged - The Art of Partner Dancing" is a well produced instructional video that jumps straight into the meat of the topic (turn patterns). A lot of material is provided in 50 minutes and no time is wasted. The tape also has the added production value of illustrating not one but two (2) well known NY Mambo instructors (Delille Thomas a.k.a. Mambo D and his partner Glenda Heffer a.k.a. La Mambera). The material is shot so that the viewer can always see the entire bodies of both male and female dancer throughout the partnering sequence. Delille's main focus is on Style and Technique when partner dancing. The idea is not to perform, but to DANCE and have fun. Those watching the tape can tell that Delille "IS" having fun when dancing with Glenda (even during the ending credits Delille deliberately allows bloopers and out-takes to be shown just for the fun of it). During the partnering segments, simple vital tips (i.e. when to step back, when to stay close, how to position elbows
, etc.) are provided to the viewer. Though in all fairness this in not a tape for the raw beginner. Delille takes it for granted that the viewer already has an understanding of the Eddie Torres timing method of Salsa/Mambo Dancing. Therefore no attention is given to the counting of the Clave (1,2,3 - 5,6,7). Advanced beginners/Intermediate dancers of any timing should be able to follow, breakdown and convert the sequence of each pattern to fit to their particular timing of dancing. So, if you want to learn some new turn patterns from an instructor with style and elegance, then Delille's "The Art of Partner Dancing" may be the instructional video for you.
SalsaNewYork Rating system:
This Product Rated a 7 out of 8 beat clave.
1-2 beats = Awful, don't waste your time or money
3-4 beats = Poor, might offer some valuable information to some dancers
5-6 beats = Good, not perfect but worth the investment
7-8 beats = Excellent, ideal training tool for instruction and/or learning

Where To Buy This Product:
Delille Thomas's Mambod.com webiste
Online orders: Click here to go to the video ordering page of his site.

Phone orders: Toll free number for orders: 1-877-356-3678


[Main Menu ] [Magazine Home ] [New Articles this month ] [Instructors ] [NY Dance News] [Articles]
[Submit an Article] [Calendar of Dance Events]
Best Viewed In Internet Explorer