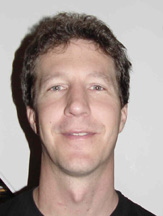 Instructor Stats:
Dance Company

Social Dance

Instructional Videos

Children
Briana Negley
David's Pride & Joy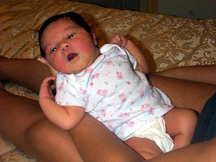 New York Mambo Instructors David & Lillian Negley recently became the proud parents of a beautiful "On 2" Baby girl.....Briana Negley. By this picture we already see her practicing what may be her first dance routine's finishing pose. SalsaNewYork would like to congratulate the Negleys and wish the "three" of them success and good health. (Posted on SalsaNewYork on 8/03)

Please Note: David Negley is currently not teaching.
This page is for file purposes only.
---
Compiled by Manny Siverio
David Negley
INSTRUCTOR REVIEW
(Originally posted on SalsaNewYork on 2/29/02)
David Negley is one of my most favorite male "Anglo" mambo instructors and I say this with the utmost respect. Those who know David will tell you that he is a hard working yet good natured teacher who loves to laugh and have a good time while dancing. He is a fixture at many popular dance events (i.e. Jimmy Anton Social), where people can see him ripping up the dance floor. I like to think of him as "bright eyes" due to the fact that you can literally see his eyes beam with joy while dancing.
I had the pleasure of knowing David as far back as 1995 when we both got involved in the NY mambo dance scene. He has studied with such well known mambo instructors as Jimmy Anton, Eddie Torres and Nelson Flores. He has traveled to California and performed as part of Jimmy Anton's Student dance group and later in NY formed part of Nelson Flores Student Dance Company. He also performed as part of "Curvas Peligrosas" at the 1st NY Congreso de la Salsa in 1999. Overall I would have to say that the mambo scene has been very good to David. Not only has it given him an artistic outlet for him to enjoy, but he met and married his wife Lillian because of it. In 1999, David was asked to assist NY mambo instructor Addie Diaz to teach her weekly mambo class in NYC. David taught alongside Addie for almost 3 years until she decided to pass on the reins of the class over to him. He is one of the few mambo instructors I know out there today who can say that they served an "internship" of training before being qualified to teach out their on their own. Today he continues to teach his mambo class with his wife Lillian. I recently had the opportunity to visit them while gathering material for a documentary I was working on.
David teaches his class with his wife Lillian. One of the things I like most about the class is that its not overly crowded. David takes pride in what he does. Most students (especially those beginners just walking into the class) will not feel lost in the shuffle. Much personalized attention is given as often as possible. The married couple divide their students into beginner and advanced beginner/intermediate. Lillian oversees the raw beginner section, while David takes on the advanced beginner/intermediate section. As with most NY Mambo classes, the first half of the session is dedicated to open floor shines. Several of the older floor shines are first reviewed by David and done to the verbal count of the clave, followed by music. During this time, David will stop to correct, answer questions and provide pointers for each shine. He likes to encourage his students to ask questions so that he can help them through any stumbling block they may be stuck on. As the class progresses through the material, the shines are gradually tied together to form a mini-routine. Students begin by executing one or two shines in a back-to-back manner (without doing a basic step in between) and before they know it they're running through an entire chain of 6-10 shines. As with individual shines, the mini-routine is executed first to his verbal count and then later to music. He loves to have fun with this segment of the class and will make it as challenging as his group of students can handle. No need to fear getting lost or left behind because David will repeat and drill each step (shine) until he is personally satisfied that every person in his group can run with the rest of the pack. By the end of the first hour students have worked up a damn good sweat and are ready for a well-deserved water break.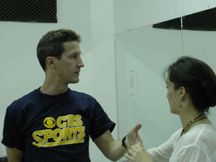 The second half of David's class focuses on Partnerwork (turn patterns). David usually has his students pair off and form a circle around him. At this point he'll demonstrate the turn pattern he expects his group to learn. The complexity of the pattern is mostly determined by how he perceives his students learning ability that day. David's main goal is not to frustrate his class but to help them enjoy and have fun dancing. The demonstrated pattern is broken down into smaller segments. While rotating from one partner to the next, students learn to execute the pattern by first going through the general motions (no counting), then by moving to the verbal count of the clave and finally dancing it to music. The class is transformed during the last 5 minutes into a mini-social dance where students practice what they've learn to a song. During this time David tries to make it a point to practice the new partner work with each and every student. While checking on everyone's progress, he will either execute the part of the lead (male) or follow (female). One of the main advantages of having a husband & wife instructor team is that both sides usually use each other to learn the dance role of the other partner. The end result is a better dance instructor.
David's style in a nutshell
If I were to compare David Negley to other NY Mambo Instructors, I would say that he has an interesting arsenal of turn patterns which he has accumulated over his years of dancing. His repertoire of partnerwork combinations can be both fun and challenging. He mixes some of the classic Eddie Torres basics turns, with some of the eclectic combos of Jimmy Anton and some of that hustle-like style of Nelson Flores into a style that is uniquely his own. So if you're into partner work and want to have fun, then maybe "old blue-eyes" David Negley is the instructor for you.
None at this time. David mainly caters to an adult mambo student class.
David Negley


Class Location:

David is currently not teaching classes. See His Web Site for most up to date class information.

Classes are subject to change without notice
it is always a good idea to confirm classes or clubs before heading out
NYC Transit : NYC Public Transit Authority Website which supplies you info on train/bus routes, transportation, etc.

Mapquest.com : Map/direction providing website for those using their own vehicles to get to class location.
Yahoo.com: This is the link to the Yahoo maps starting page. According to Steve Shaw, it may be the better of the two Map websites.