Established 1998.
Copyright © 2015 Steve Shaw. All rights reserved.
---
DJ "DOC SALSA"
STEVE SHAW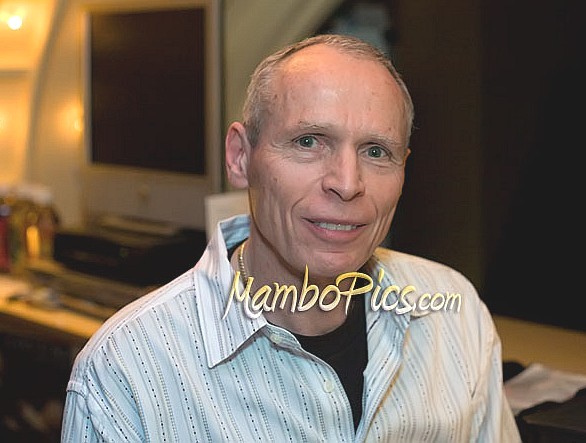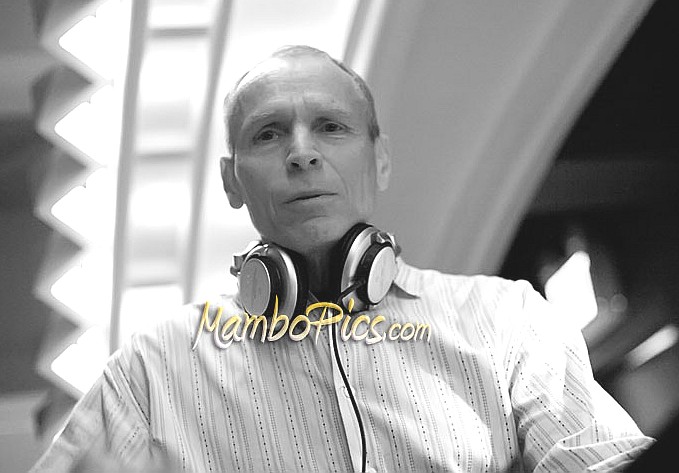 ---
Position - Founder and co-host of www.SalsaNewYork.com .
Contact Information For Booking - Email - Salsa@nyc.rr.com
Salsa Background - Going dancing at NYC salsa clubs & events since 1980, more than 35 years experience.
Clubs: Casablanca, Ochentas, Club Broadway 1 & 2, Wild Palm, Copacabana (E. 60th St., W. 57th St., W. 34th St. & W. 47th St.),
Side Street, Jet Set, Orchard Beach, Latin Quarter (Bway), La Maganette, Bistro Latino, Mon Ami, West Gate and others.
Main Salsa Activities - "On 2" Social dancer, DJ, music collector, internet journalist, mambo observer & commentator.
Origin of Name "Doc Salsa" - Doctor's degree in Clinical Psychology. Retired.
Has DJ'd At -
New York Salsa Congresses - Hilton & Marriott Hotels, Manhattan, NY
Latin Quarter - LQ - Manhattan, NY
Latin Sundays With Jimmy Anton - Manhattan, NY
Club Cocomo - San Francisco, CA
Mambo Sundays With Carlos Konig - Manhattan, NY
Club Con Sazon - Side Street - Bronx, NY
Club Cache - Manhattan, NY
T.N.T. Salsa Tuesdays @ Link - Manhattan, NY
Salsa Fever With Mambo Mario B - Hoboken, NJ
China Club - Manhattan, NY
Friday Nights For Mambo Dancers - Manhattan, NY
Tavern On The Green - Manhattan, NY
Santo Rico Dance Studio Social - Manhattan, NY
Club Shelter - Manhattan, NY
Salsa In Central Park - Manhattan, NY
Club 412 - Manhattan, NY
Thank God It's Friday @ Empire Dance - Manhattan, NY
Albert's Night Club - Jersey City, NJ
Spice Summer Festival On The Hudson River - Manhattan, NY
Mambo 2 Cha Cha With Claudine Events - Manhattan, NY
Latin Fever Dance Studio Social - Brooklyn, NY
Salsa Tuesdays @ The Parlour - Manhattan, NY
Club Vue - Manhattan, NY
Yamulee Dance Studio Social - Bronx, NY
Mambo Mondays @ Session 73 - Manhattan, NY
Plumm Nightclub - Manhattan, NY
Casa De La Salsa - Almyra Ayos Events - Manhattan, NY
Mojito Sundays @ Wish 26 - Manhattan, NY
Mocca Lounge - Manhattan, NY
Mad About Mambo By The Mambo Mamas - Manhattan, NY
Mambo Bravo Dance Studio - Jackson Heights, NY
Enixe Salsa Social - Brooklyn, NY
Swing 46 - The Supper Club - Manhattan, NY
Saturday Night Salsa With Nelson Flores - Manhattan, NY
Dance Atlantic Studio - Brooklyn, NY
Salsa Salsa Dance Studio - Brooklyn, NY
The Brooklyn Salsa Gala - Brooklyn, NY
La Vieja Guardia Salsa Social - Manhattan, NY
Bogart's On Park - Manhattan, NY
Iguana Night Club - Manhattan, NY
Karisma Dance Studio Social - Manhattan, NY
Connecticut Salsa Congress - Stamford, CT
Monte Carlo Room - Bronx, NY
10th Anniversary Party Of The Karisma Dancers
Mambo Fateegz Salsa Socials - Manhattan, NY
Salsa Fever @ Deity Lounge - Brooklyn, NY
Caribbean Soul "Break From The Norm" Party - Manhattan, NY
Spicy Salsa & Bachata Fridays - Manhattan, NY.
New York All Stars Showcase - Brooklyn, NY
La Mambera's Salsa Parties - Manhattan, NY
Big Apple Salsa Festival - Hilton Hotel, Manhattan, NY
SalsaMania Saturdays - Manhattan, NY
Mambo-Land Tuesdays @ Euro Lounge, Belleville, NJ
Salsa On Sundays @ Taino Towers, Manhattan, NY
Tumbao Thursdays @ The Whiskey Cafe, Lyndhurst, NJ
Baila Wednesdays @ Solas, Manhattan, NY
La Libertad Salsa Social @ Club 412, Manhattan, NY
Las Chicas Locas @ DanceSport, Manhattan, NY
Latin Reflections Social @ La Salsa De Hoy, Brooklyn, NY
Sabados Elegante @ La Nueve Elegante Nightclub, West New York, NJ
Framboyan Socials & Anniversary Celebrations, Manhattan, NY
Salsa Saturdays @ La Placita De La Marqueta - East Harlem Multi-Cultural Festival
Copacabana - Frenesi Fridays - Manhattan, NY
Fuego Fuego Nightclub, Passaic, NJ
Private Parties - NY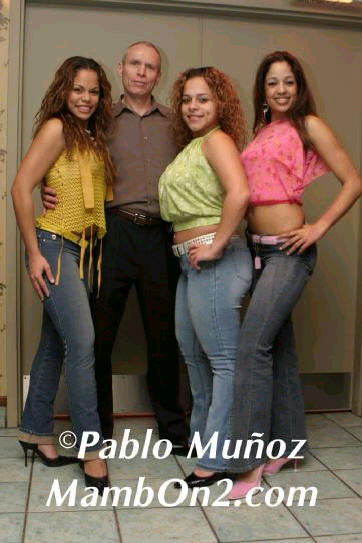 With performers Griselle Ponce & "Taima Las Hijas Del Trueno" .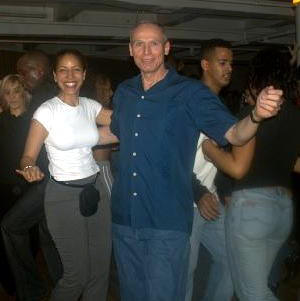 With salsera Madeline Cruz.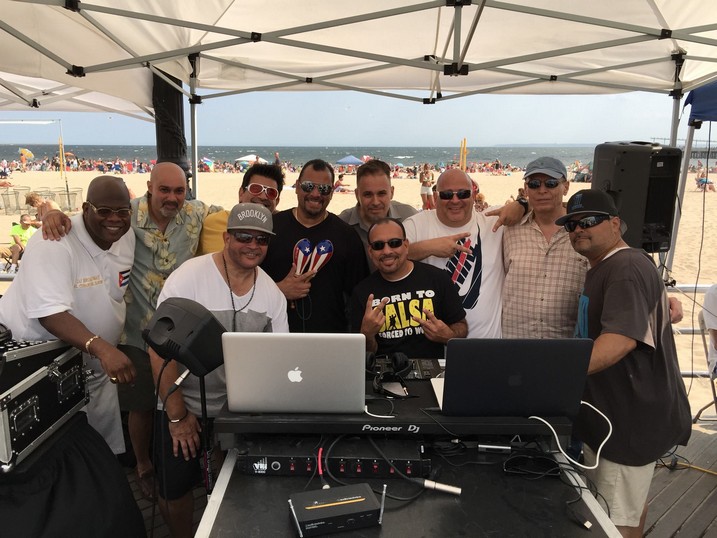 With "Men Of Salsa" crew of NYC DJ veterans at Coney Island Boardwalk salsa event - July 2015..
(L to R) DJs Broadway, Oscar De La Paz, Walter Baez, J. Antonio, Andy Camacho, Willie Rivera, Louie Tee, Chris Nielsen, Me & Joe Gonzalez.
---
DJ PHILOSPHY - SUGGESTIONS TO DJs - HOW TO MAKE MAMBO DANCERS HAPPY
GUIDELINES FOR DJ'S -
Here are some Guidelines for Mambo DJs. These guidelines represent the opinions, criticisms and suggestions of several hundred On 2 mambo dancers and several mambo DJ's who I have spoken with over the many years I have been going to Latin clubs and mambo socials. They represent a consensus of what kind of music selection and DJ technique works best for our On 2 way of dancing. Let me emphasize: These opinions only represent On 2 mambo dancers who go to an event and want to dance song after song. They do not represent the opinions of On 2 dancers who only dance a few songs and spend the rest of the evening sitting around & talking or watching. And they do not represent any other types of people at a salsa club or event such as dancers on other timings or non-dancers such as spectators, music listeners, socializers, bar flies, DJs, musicians, promoters, drinkers, critics or anyone else. Only On 2 mambo dancers who dance a lot are being represented here..
See our Directory of Mambo DJs below. Also see our list of Good Salsa Songs .
On 2 mambo dancers usually prefer classic salsa music with a strong danceable rhythm. The word "classic" does not mean "old"; it refers to a certain classic style of salsa music. The rhythm structure is based on either the 2/3 or 3/2 son clave, and the sound is one very much associated with Puerto Rican, Dominican or NewYorican bands, such as El Gran Combo, Jose Alberto "El Canario", Oscar D'Leon, Ismael Rivera and the like. This is not to say that bands with other backgrounds or from other locations do not play songs that fit our way of dancing. Some of our favorite dance songs come from bands whose roots are far from New York, but it is only when those songs have this "classic New York sound & rhythm" that they are compatible with our On 2 dance timing and style. See History & Evolution of our Music.
We do not generally like to dance to what is called "Latin jazz" nor most of the salsa heard on pop Latin radio stations such as La Mega in NYC, salsa which is referred to as "pop", "commercial" or "romantica". To give a better idea of the style of music we don't like to dance to, with a few exceptions most (though not all) of the songs of the following singers & bands would fall into this category:
Brenda Starr, Luis Damon, DLG, Alex D'Castro, Adolescents Orchestra, Nino Segarra, Jerry Rivera, Michael Stuart, Isidro Infante, India, Johnny Rivera, Tito Nieves, Mark Anthony, Jennifer Lopez, Gloria Estefan, Giro, Luis Enrique, Rey Ruiz, Domingo Quinones, Eddie Santiago, Frankie Negron and others of this style.
While there are many DJs out there playing Latin music, unfortunately a lot of them play the more commercial "pop" or "radio" salsa along with merengue, rock en Español, and house music. Some DJs destroy portions of the original songs by repeating or "looping" certain sections, and by "mixing" two songs together at their ends & beginnings, all of which destroys the natural rhythm and count, and isn't conducive to our way of dancing. Other DJs play a large percentage of salsa songs which have a different rhythm & sound style than what goes best with our On 2 timing & way of moving, such as "Cuban", charanga, Latin jazz salsa, salsa romantica, bomba, plena or antique salsa.
Guidelines For DJ's - Here are some guidelines for DJ's if they want to please the majority of On 2 "New York style" mambo social dancers:
1. Play For The Dancers - Remember: you are playing music for serious dancers to dance to. We have worked very hard to learn this complicated dance to a very specific type of music, and that is what we come to pure mambo events for. This is not music for general/casual club dancers, listeners only, people drinking at the bar, musicians, other DJ's who might be in the house, celebrities or celebrity watchers, folks at a pickup club, salsa dancers who dance in a different style, etc. We dancers want to ask someone to dance, have a nice dance with them to music we know which has a clear beginning and end, finish the dance within a reasonable period of time, and not be bored by the same style or speed of music being played continuously for hours. We are very specific about the music we want to dance to. A successful DJ will excel in giving us this specific music. A successful DJ will play music as if he/she were out there on the dance floor the way we dancers are. Unlike everyone else in the club or social, including the so-called "Latin music experts" and the DJs themselves, we dancers spend hours & hours dancing to one song after another with different partners. And more than anyone else, we know best what music goes with our way of dancing. Some DJs make the mistake of playing music which we may not like but the DJ thinks he/she is going to "educate us" in what type of music we should dance to. This is a mistake. Play what we like, not what you think we ought to like.
2. Leave The Song Alone - Please don't "loop" or "mix" songs for dancers - "Looping" is when a DJ repeats one part of a song over and over. "Mixing" is when a DJ blends the ending section of one song with the beginning section of the next song. These are absolute "no no's" to pure On 2 mambo dancers. The reason is that we dance to an 8 count "dancer's measure" (actually two 4 beat measures put together), and the "looping" and "mixing" changes the count so that we end up being off timing. Also, these manipulations of the music are unpredictable, so we cannot choreograph our dancing to the music. "Looping" and "mixing" are DJ's toys, and they are very disrespectful to the the musicians' songs and destructive to how we On 2 mambo dancers dance. Please don't do it! This issue has been strongly felt for years and has become a major prohibition, like the 11th Commandment: "Thou Shalt Not Mix Salsa!". Read the excellent article on this subject called "DJs Listen Up" from www.UtahSalsa.com . And by the way, even among veteran DJs outside of the On 2 mambo community, there is friendly controversy about whether to mix salsa music or not.
The one modification to a song that is very occasionally OK is slowing down a very fast song's tempo a little bit. There are a few very fast salsa songs which are way too fast to dance to smoothly and attractively, but which do have an excellent dancer's rhythm and great melody line. If a DJ has the technical equipment to slow down the song's tempo without changing the key, this may be done to bring the song's tempo down to a speed which makes it possible for us to dance to.
3. Let The Song End Completely - The musicians composed a specific ending to the song, and we dancers choreograph our movements to be timed to that ending. We may even do a certain turn, shine or dip right at the end of the song. We want a pause to allow for the feeling, key and rhythm of that song to emotionally complete itself before we start another song with a new partner. To us, each song and each partner is unique, so we need a little pause between each song, perhaps 1 or 2 seconds, to make the emotional transition feel natural. When DJs start another song instantly, or "mix" in the beginning of the next song with the ending of the last song, they destroy what the composer, musician and dancer are trying to do artistically. Perhaps these DJ's no longer hear and appreciate how different each song is. Perhaps all the songs are the same to them, so they just run all the songs together with no separating pause between them, as if it's all one song for the whole evening. Obviously, these DJ's are not On 2 mambo dancers!
There are also times when we want to finish dancing with the particular partner we are with. It may be because there's another person we want to dance with, or because we are not enjoying dancing with our current partner, and we want to finish as soon as possible. When a DJ "mixes" the end of one song with the beginning of another, or doesn't put a short pause between songs, it doesn't give us a definite signal that the song is over and it makes it more difficult to "gracefully" stop dancing with this particular partner. Some partners want to keep dancing, but we may want to stop. Give us a clear break between songs.
One of the reasons that commercial DJs may give for "mixing" when they move from one song to another, when they don't let the song end, is that they want to keep the dancers from leaving the floor. By blending 2 songs together, they want to keep the dance floor full at all times. These DJs do not understand our way of dancing. We want to dance one song with one partner from beginning to end. Then we want to stop dancing with that partner and start dancing with another partner who is standing on the edge of the dance floor. Therefore, we have to stop dancing to the first song, walk to the edge of the floor, ask the next person to dance, walk back out onto the dance floor and then start dancing to the next song with a new partner. We do not keep dancing to song after song with the same partner. So we need the DJ to completely finish each song all the way to the final beat, give us a little pause, then start the next song, so we can move to our next partner. DJs: Please pay attention. This is what we want!
4. The Transition From One Song To The Next - DJ Technique - For the DJs, imagine you have been dancing to the music you have been playing. What type of song would you like to hear next....as a dancer? If prior songs have been fairly fast and driving, consider slowing down the tempo or moving to a more "gentle" sound or a bit more "romantica". If your last songs have been very old, try transitioning to more modern ones, or vice versa. Usually we transition gradually from one tempo to another, or one style to another. But sometimes it's appropriate and interesting to do a sort of shock change, for example going from a series of fast and driving songs to suddenly playing something slower and romantic. And from that you can transition to a cha cha or bachata. Be aware that many of the ladies are exhausted after several of these fast songs because the guys are spinning and pretzeling them to death with their latest turn patterns; the ladies love a break into something more smooth, easy-going and melodic.
DJs, remember to match your volumes between the song that's finishing and the next one coming up. Also, match the EQ (equalization between highs, mids and lows). For example, Frankie Ruiz and Oscar D'Leon and Grupo Niche will have a sort of middle level EQ, but singers like Celia Cruz and Raphy Leavitt have rather strong and "raspy" highs/treble, so you'll want to adjust your EQ before you hit the "play" button. The goal is to make a natural and comfortable transition in the sound quality for the dancer from one song to the next.
You can connect songs together in various ways. They can be similar in tempo, key, rhythm style. Or they can connect via similar instruments, such as one song ending with drums or trumpet and the next song starting with the same instruments. You can represent different countries, such as a song about Puerto Rico, the next about the Dominican Republic, the next about Colombia. And you can pick up on the themes in the lyrics of songs, such as songs about food, songs about love, songs about dancing. And of course, as mentioned above, you can do a sort of "shock" change by playing the next song that is completely different from the one before.
There are times when you want to "rotate the dance floor", bringing a new group of people up to dance. Not all dancers are the same, so they like different types of music. Some like fast, hard driving music, others like smooth mid-tempo or slow music, some like lyrical melodic music they can sing to as they dance and, if you're DJing in a club, some are on the dance floor while others are at the bar or sitting at tables. By changing the type and tempo of the music, you can bring new people up on the dance floor while the others take a nice break.....and maybe feed the bar. And keep in mind that beginners and low-intermediates can't dance fast without screwing up and looking terrible, plus the ladies need a break from being spun to death, and also many of them rather like the more lyrical and sometimes more romantica music. Mr. DJ, you are playing for everyone, not just the hotshots.
5. Give Us (1) Classic Salsa Sound, (2) Strong Dancer's Rhythm, (3) Nice Melody Line and (4) Lyrics - We like all 4 of these features. Some songs have great rhythm but no melody line. What is melody? It means we can sing or hum along with the tune while we're dancing. Yes, we move to the rhythm, but don't forget that the melody and also the words provide the feeling and meaning to our dancing. Most mambo dancers love it when one or both of the partners is singing along with the song while they're dancing, as if we're serenading each other. So DJs, give us music with rhythm we can move to, and melody & lyrics we can sing along with. The rhythm makes us move, the melody & lyrics make us feel.
6. Give Us Variety - A good DJ should play a variety of salsa songs with that classic salsa sound , strong "dancer's rhythm", and a nice melody line and lyrics, including slow, medium and fast, hard core percussive as well as somewhat lyrical and romantic, older and newer songs, etc. A mambo dance crowd includes beginner, intermediate and advanced dancers, and they each have different taste in salsa music as well as varying ability. Beginners cannot keep up with fast music and, surprisingly, some so-called advanced dancers loose their timing in slow songs. So give us variety. See our Song List for hundreds of suggestions.
7. Give Us Diversity - The DJ should provide a diversity, not get stuck in playing just one kind of salsa such as all fast songs, all old songs or all hard-core percussion songs. And don't be afraid to play some of the more melodic, suave, modern, slower or "salsa romantica" songs, as long as they have a strong "dancer's rhythm". Here are some examples: "Madre" by Melcochita. "Ven" by Jose Bello. "La Soledad" by Ismael Rivera. "Perdoname" by Gilberto Santa Rosa. "Cara De Nino" by Jerry Rivera. "Cancion" by La Sonora Poncena. "Me Dices Que Te Vas" by Miles Pena. "Lady" by Orquesta Palabra. "Sin Sentimientos" by Grupo Niche. "Esperare A Que Decidas" by Tony Vega. "El Manisero" by Willie Chirino. "Apiadate De Mi" and "Solo Contigo" by Victor Manuel. "La Fe Tiene Calentura" by Alfredo de la Fe. "Mascarada" by Johnny Ray. "Quiero Olvidarte Y No Puedo" by Erick. "Tengo Una Copa De Vino" by Raulin Rosendo. "Para Darte Fuego" by Frankie Ruiz. "Thinking of You" by Lenny Kravitz. "Marca Mi Numero" by Justo Betancourt. "Mujer Celosa" by El Gran Combo. These are only a few examples of the many classic medium or slow speed songs that are out there which are excellent to dance to. With hundreds of great songs to choose from, there's no reason for a DJ to get stuck in a rut playing only one style of song.
8. Expand The Selection - Some DJ's feel that they should only play only fast hard-core percussive songs like those by Tito Puente. But there are some very melodic and powerful songs by other artists that will make the dancers go wild. Many DJs just focus on the rhythm, but they forget the melody. Here are some examples of songs with beautiful melodies as well as strong dancer's rhythms: "Fuego A La Jicotea" by Marvin Santiago. "Mama Kyelele" by Ricardo Lemvo. "Cinco A Diez" and "Besitos De Coco" by Azabache. "Santo Domingo" and "El Curandero" by Raulin Rosendo. "Qui Qui Qui Qui" by Andy Montanez. "Y Eso Duele" by Gilberto Santa Rosa. "Yay Boy" and "Ken Moussoul" by Africando. "Si Tu No Vienes, No Bailas Conmigo" and "Si Te Busco En El Baile" by Edwin Bonilla. "Rumbera" by Willie Chirino. "Sonando" "La Guitarra" and "Tu Carino Se Me Va" by Erick. "Etnia" by Grupo Niche. "Chotorro" by Madera Fina. "Que Me Lo Den En Vida", "Amparame", "Ponme El Alcolado Juana", "El Menu", "Mundy Baja" and "Azuquito P'al Cafe" by Gran Combo. "Ahora Me Da Pena" by Henry Fiol. There are many more.
9. Songs Not Too Long - The majority of songs should not be too long, usually 4 - 6 minutes. Our dance is pretty intense & complicated, so after 5 - 6 minutes we need a break; we're getting tired and probably running out of turn patterns. Also, there are so many wonderful partners available that we want a song to end so that we can dance with someone else. And if we are stuck with a partner we don't enjoy dancing with, we don't want to have to dance longer than few minutes. A long song can be hell with the wrong partner.
10. Play At Least 50% Familiar Songs - At least half of the songs which the DJ plays should be known to the dancers, well known classics, because we plan how we dance based on our familiarity with the songs. We may do certain turn patterns, shines, styling or dips at specific points in a song, or sing or hum along with the song almost as if we're serenading our partner, so we want to hear many songs we know. Some DJ's feel they have to frequently play "something new" or the most recent songs from the radio. That's a mistake. Give us a good number of songs that we know so that we can dance along with it. This is not to say that a DJ should not play any new songs at all. A new song is fine, though it should be chosen carefully to be suitable for our dance. That means it should have a good strong "dancer's rhythm" and it should not have repeated "clave changes". Don't play something just because it's new. DJs should remember that although they may be spinning many times per week for 5 - 6 hours, we are only dancing a couple of times per week for a couple hours. So while a DJ may be getting bored with certain songs, we are not getting bored because we are not hearing those songs as often. The DJ should play for us, not for him/her self. Plus, there are virtually hundreds of wonderful classic salsa dance songs available. Playing the latest songs (often given to DJs free by record companies) may be easier, but it is no excuse for not building up their collection of, and familiarity with, the great dance classics. These songs are classics because they work well with our specific timing & style of dancing. Finally, songs of a "Latin jazz" style should be kept to a minimum since they are more for listening rather than dancing in our specific way.
11. After A Performance, Play Medium Speed Familiar Classic Salsa Songs - After a performance by dance groups or a band, most people want to get up and dance. Often they have been standing still for the last 30 minutes or more and they are eager to start dancing. The DJ should play several medium speed familiar classic salsa songs so that everyone can get up and dance. Many DJ's make the mistake of playing very fast salsa songs, or merengue, bachata or English music, after performances because they think people want a change. This is a mistake. Hopefully we have been inspired and excited by the salsa performances and we want to dance. If the songs are too fast, or are not salsa, most people will not dance and will be frustrated. So after performances, DJ's should play solid medium speed salsa that is familiar to everyone, strong rhythmic classics in the style of "Que Me Lo Den En Vida" by Gran Combo, "Mama Kyelele" by Ricardo Lemvo, "Ken Moussoul" by Africando, "Caravan" by Eddie Torres Mambo Kings Orchestra, "Un Poquito Más" by Jimmy Bosch, "Quiero Olvidarte Y No Puedo" by Erick, "Nina Y Senora" by Tito Puente, and others.
12. Sound And Lighting - And very important: The volume should not be too loud. Loud volume ruins the music and is harmful to the ears long-term (the damage is cumulative over the years). It also damages speakers and amplifiers over the long term. To judge loudness, ask some dancers in the crowd who are at least in their 40's or more. The DJ should step out into the center of the dance floor at least every hour to check the sound level and also balance of treble, midrange and bass. The balance should be comfortable and not extreme, and especially the bass should be clear so that we can hear the rhythm, but it should not be excessive and "boomy". Remember that some songs have more volume or bass than others in the recording, so be prepared to constantly adjust loudness & balance for each song if necessary. Also, there should be adequate lighting, not too dim, so that we can't see our partners' hands for leading & following, and not too bright so that it ruins the mood or glares in our eyes. There should absolutely be no flashing/strobe lights or spotlights panning around the room.
13. Play A Few Cha Cha Songs - We dance cha cha "breaking On 2" also. Only certain cha cha songs are suitable for mambo dancers - see our list of Good Cha Cha Songs below. Cha cha songs should be chosen based on having the right rhythm and tempo for dancers only. While there are plenty of cha cha songs which are musically beautiful, many which are in a "Latin jazz" style with long instrumental breaks, they are not necessarily appropriate for dancing to. As with salsa songs, good cha cha songs need to have a very definite strong dancer's rhythm. They cannot be too fast because the 3 cha cha cha quick steps need to fit comfortably within the measure, and they cannot be too long because of the limited turn patterns available and the insufficient cha cha knowledge of most mambo dancers. There should never be more than 2 cha cha songs in a row, nor more than approximately 2 per hour in a typical mambo party.
14. Skip The Band - Most On 2 mambo dancers are dancing to the music. If the music fits our way of dancing, as described above, we're happy. Whether that music comes from a DJ or a live band is irrelevant to how we dance and how much we enjoy the event. When we are dancing, we are looking at our partners, not the DJ or band. And after one good song, we want another one right away. We do not want to listen to some second-rate song or announcer or bandleader talking for several minutes about nothing but nonsense. So who needs a band? From a dancer's point of view, a good DJ can beat a band almost anytime, because a good DJ can choose from hundreds of fantastic dance songs recorded by the world's best musicians. But a band is always limited by its musical ability, its relatively small repertoire, its tendency to play songs longer than 5 - 6 minutes and songs that are way too fast for us, and its limited ability to change songs based on the dancer's preferences hour by hour. Most bands only have a few really great songs and the rest are nothing special, and a few are truly lousy. When they play a set, dancers are usually happy with only 1 or 2 songs in that set, all the others are second-rate. When we buy a band's CDs, again, there are usually only 1 or 2 good songs. But a DJ can play 10, 15, 20 great songs in a row, chosen from the world's best bands. How many bands can do that?
There are a few bands who can play an entire set of great dance music, maybe 5 in the whole world. One of these is El Gran Combo from Puerto Rico. Unfortunately, wherever they play in a club it's so crowded that there's no room to dance. So while the band is playing, we're being smashed into by other dancers and non-dancers (holding and spilling their Coronas & margaritas) on the floor. And we're not looking at the band anyway, we're looking at our partners. So it would be better to have a good DJ play a full hour of El Gran Combo music with a dance floor full of salseros, and let the non-dancers and bar flies nurse their drinks at some club down the street with a live band.
Another problem with live bands is that the songs are too long, to fast and too loud. We want our songs to be about 5 minutes long because we want to change partners after that. We want the majority of our dance songs to be medium speed. And we don't want the volume so loud that our ears are hurting. Live bands don't understand these dancer needs. During live performances, bands play very long songs, sometimes more than 10 minutes, while the musicians stretch out on their solos. They play fast up-tempo music because that's what excites them, but it just exhausts the dancers. And they play very loud because, frankly, they're probably deaf.
Bands think they are the center of the salsa universe. They say "without bands, there would be no music to dance to" and "bands first make the music, then the dancer come and dance". Bands think they are the most important element in the whole salsa scene. But they are wrong. What is most important are the dancers because the dancers are the band's customers. If the dancers don't like the music, they won't ever come back to hear that band again. And that means that the band will lose it's financial support by those particular dancers; then the band will disappear. Manufacturing companies learn this lesson early: It doesn't matter what they think is the right product. What matters is that they make products that their customers will like and want to buy. They must follow the desires of their customers. General Motors made cars they liked, but their customers didn't like, so General Motors ended up going bankrupt and had to be bailed out by the government. Similarly, bands need to learn to follow the desires of their customers, the dancers. The dancers decide what music the band should play, not the band that is stuck in its own little world.
You can see many bands' arrogance and disrespect for the dancers and the DJ. When the band comes on stage while the DJ is still playing and people are dancing, bands frequently start warming up by playing their instruments loud. And each instrument is playing something different, or just scales. So now the band's noise is sounding along with the music being played by the DJ and the result is that the dancers are hearing more than one sound. There's no way to dance to that. The band is being arrogant by thinking they are more important than the DJ's music and the dancers. And they are being extremely disrespectful of the DJ and dancers. Why would we dancers want to support that kind of rude behavior?
Here's a quote from Edie "The Salsa Freak" , international performer, instructor & founder of www.SalsaWeb.com , about having a band at a salsa dancer's event:
"To Have a Band or Not Have a Band?
Bands are important - but if you're a relatively small club, and especially one that's starting out, if the band isn't great, you're going to lose your shirt. People won't come back. If the band IS great, you're going to have to pay a lot, unless you work out some kind of package deal with them. Your safest bet is to just have a great DJ. I would say that 50% of the time, people get disappointed when the band comes on (I'm not kidding) because the DJ was playing such great stuff! Unless the band is just incredible, stick to the DJ.

Many many people have often wondered why clubs just don't try and play good 'ole DJ music. Sometimes it's just so much better. You don't HAVE TO HAVE a band every Salsa night. It's not necessary. Many people go for the bands, but more go for the dancing and social atmosphere. If the band is just too expensive, you can have one every other weekend. Please do not buy into the idea that "Oh, the Band is Everything"... It's important - but not as important as you may think. What's most important is the music, the floor, and the people."
15. Don't Use A Computer With MP3 Music Files - The sound quality of music from an MP3 file, even at 320 kbps, does not sound as good as the same song played directly from a standard CD, or a computer using full-size .WAV files, when using high-end sound equipment or professional DJ sound systems. The range of the sound spectrum is not as broad nor as clean. There is a predominance of midrange and higher sounds and the overall sound is more "flat", with less "depth" and richness. Although MP3 files, often downloaded from the internet, may sound similar to a CD when listening on a small device such as an IPOD or on a boom box or car radio, a comparison test on higher end and professional equipment shows a noticeable difference. For a scientific test comparison, see http://www.stereophile.com/features/308mp3cd/ .
The reason for this lack of CD quality sound is that a regular 5 minute salsa song on a CD, or in a .WAV file, is approximately 50 megabytes of program material. The same song compressed into an MP3, 320 kbps, format is only 12 megabytes. That's 38 megabytes of the song's program data missing, and that missing information is what makes the sound quality worse with an MP3. Even though MP3 compressed files utilize software to try to correct for the missing program material, it simply cannot compensate for the missing 38 megabytes. It's just not possible. Overall, the best quality sound comes from a standard CD or from a full size .WAV file. And if you're worried about storage space on your laptop's hard drive, remember that 5000 full-length salsa songs in .WAV files is only 250 gigabytes. Most laptops these days come with either 500 gigabyte or 1 terabyte (1000 gigabytes) hard drives and many DJs are carrying around compact portable external hard drives that have another 500 gigabytes or even 1 terabyte. If a salsa DJ can't do a decent job with 5000 good songs available in their collection, they've got a big problem.
And, by the way, www.Fania.com now has some of the Fania music collection available for download in .WAV file format.
---
Suggested Salsa And Cha Cha Songs - See List of Good Dance Songs .
Most Influential Salsa DJs For Me - Jimmy Anton, DJ Jay Vee, David Sala , Osmar Perrones .
Other Interests - Cars, high performance driving (street & track), movies, adventurous foods & dining, travel, politics, psychology & psychoanalysis, media & world events, technology, crime drama, human behavior, business, economics & investment.
Academic Background - Ph.D. in clinical psychology. Certificate in psychoanalysis. Studies in economics, business & investment.
Salsa Articles By Steve Shaw -
How To Get More Partners - Overcoming Fear Of Dancing - Tough Talk
Definition of Dancing On 2 - Technique - How To Learn - The Music
Guidelines For Mambo DJs - List Of Good Mambo & Cha Cha Songs
How To Put On A Successful Salsa Dance Event
The Story Of SalsaNewYork.com - How It Came About
Fellas, You Are Supposed To Make The Lady Look Good
---
---